PREPARE YOUR PAN
​Call with prep questions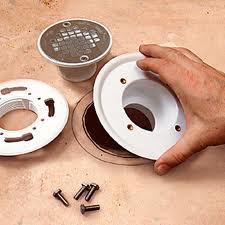 THE DRAIN
​
​The drain must be a two piece sub-drain held together by three or four bolts. When set in place, the bottom flange must be flush with floor or sitting directly on top of the floor.
If you are using an existing drain, the drain must be thoroughly cleaned. All bolts must be unscrewed without breaking off with same or new bolts able to screw back in.
---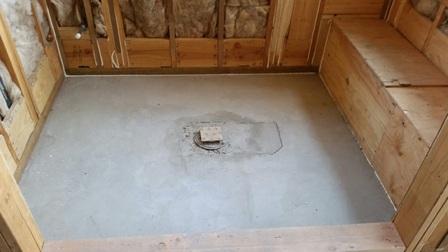 BACKING OR BLOCKING

​Backing must be solid wood nailed flush between each stud and should rise between 10"-12" from the floor. The most common way to do this is using 2"x10" boards cut to fit. (Do NOT use greenboard, drywall or hardyback).


---

SEAT OR BENCH

If there is to be a seat/bench to be mopped in the shower pan, it needs to be blocked in solid with wood (plywood works great). Backing around the seat should be 6"-8".



---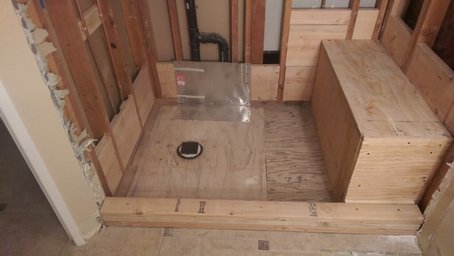 SETTNG THE CURB/DAM

The curb/dam should be two or three 2"x4" 's laid flat on top of each other, or approximately 3" to 5" in height.


---
The pans below are not ready for hot mop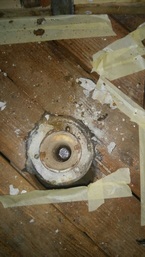 USE A NEW DRAIN WHEN POSSIBLE
In this photo, the bolts snapped off while attempting to remove the top half of the old existing drain.
It is so important for the drain to be correct. It is where the where the water flows to and needs a perfect seal.
With the cost of a bathroom remodel sometimes being thousands of dollars, this is a $20.00 part.
When possible, always replace with a new drain.



---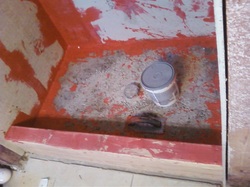 DO IT RIGHT THE FIRST TIME!

This was an attempt to use an inferior method of water-proofing. This material had to be ripped out and properly prepared . After paying for this to be "installed" , the homeowner had the cost of the demolition to get it prepared for hot mop.


---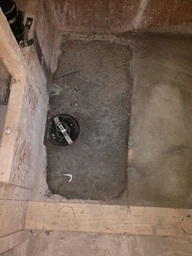 LOCATION, LOCATION, LOCATION!

There are a few problems with this one.

1. Here you will see that the drain is set too close to the wall. It would not allow for the floor to be sloped from the wall to the drain, giving the water nowhere to go but against the back wall and seep through the tile grout and promote the growth of mold.
2. The drain is set too far below the sub-floor. bottom half of the drain should be as close to level with the sub-floor as possible. This drain had to me moved and raised before hot mop.


---